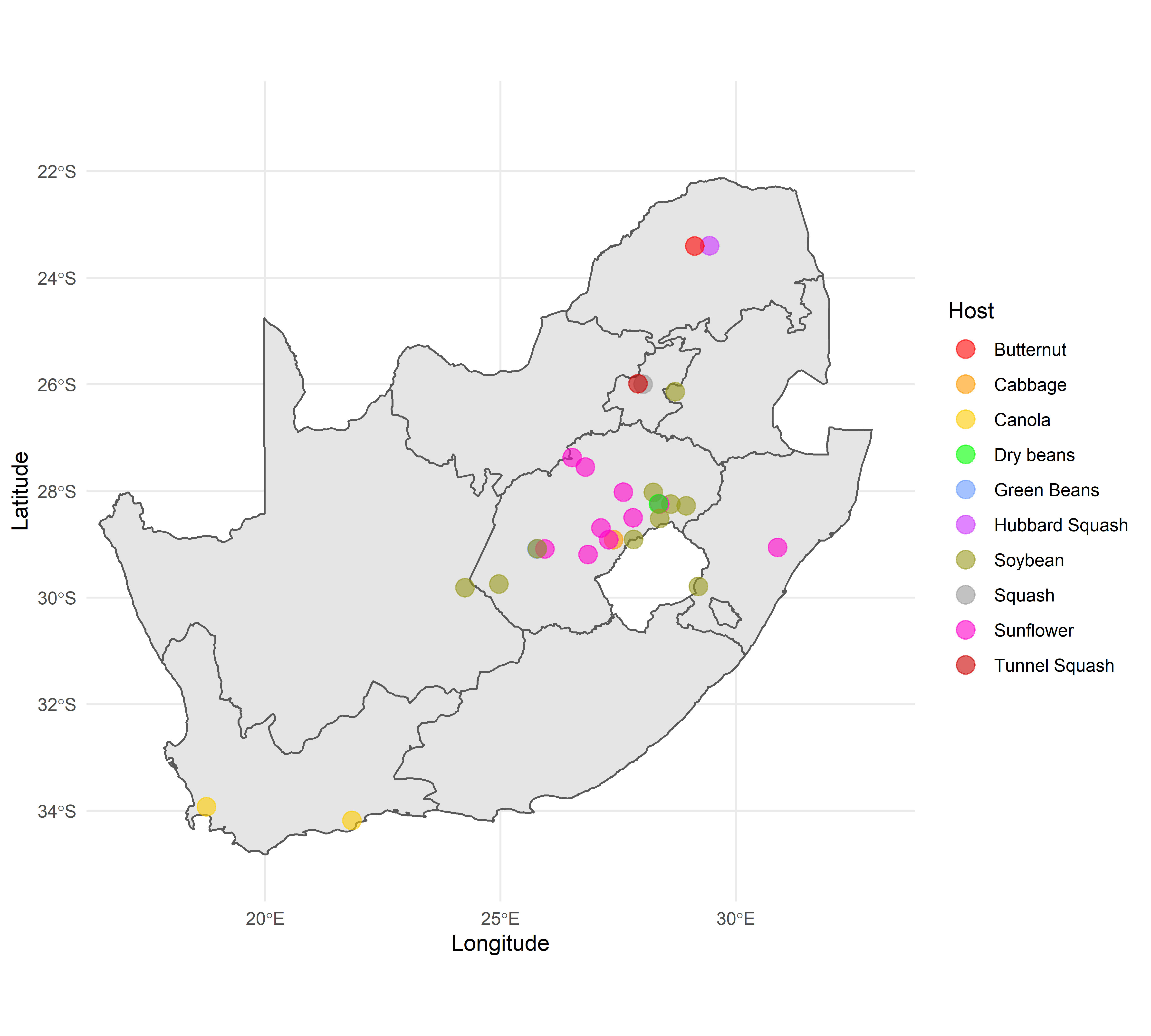 The South African Sclerotinia sclerotiorum culture collection
Where it all began
The South African Sclerotinia sclerotiorum culture collection was initiated 2006 at the University of the Free State, Plant Pathology division by Professor Neal McLaren and a student under his supervision at the time Dr. Chrisna Steyn. These isolates formed part of her MSc. Agric, entitled, "Study of inoculation and disease evaluation techniques for sclerotinia stalk rot (Sclerotinia sclerotiorum) of soybean" and PhD entitled, Soybean response to rust and Sclerotinia stem rot under different biotic and abiotic conditions studies. At the close of these projects there were 77 isolates deposited in the culture collection. These isolates were collected from hubbard squash, soybean, sugarbean and sunflower host crops across 5 of the 9 provinces. The aim of this research was to initiate the local understanding of S. sclerotiorum genetic variation in order to understand the pathogen population and diversity in South Africa.
Growth and expansion
Dr. Adré Minnaar-Ontong, a senior lecturer and researcher in the Plant Breeding division, continued these studies from 2012, with Carmen Meyer as a MSc Agric student. Currently, 1200 (of which 950 have been molecularly characterised) isolates from 10 host crops across 20 localities are housed in the culture collection and new isolates are deposited on a regular base (Figure 1). The current research project aims to evaluate phenotypic and genetic diversity as well as the population structure of S. sclerotiorum in South Africa. A more comprehensive understanding of genetic diversity, phenotypic traits and population differentiation relevant to agricultural practices in South Africa will provide a better insight into the epidemiology and evolutionary potential of the pathogen. Knowledge of the population structure of the pathogen population could lead to improved strategies for disease control, especially resistance breeding. If you would like to know more about how this plays a role in the development of tolerant cultivars please go and read this article – Sclerotinia sclerotiorum population dynamics - a force to be reckoned with.
Access and availability
Access to these cultures are available through a Material Transfer Agreement which was set up by through the Office of the Directorate of Research and Development at the UFS in collaboration with GrainSA. We would like to encourage you to deposit Sclerotinia sclerotiorum samples in order to expand our understanding of S. sclerotiroum distribution and population diversity. Please feel free to reach out to Dr. Minnaar-Ontong at MinnaarA@ufs.ac.za and Dr. Steyn at BothaC@ufs.ac.za to arrange isolates for use or depositing a sample.
Author: Lisa Rothmann, Department of Plant Science, Plant Pathology Dr. Adré Minnaar-Ontong, Department of Plant Science, Plant Breeding Universtiy of the Free State UFS